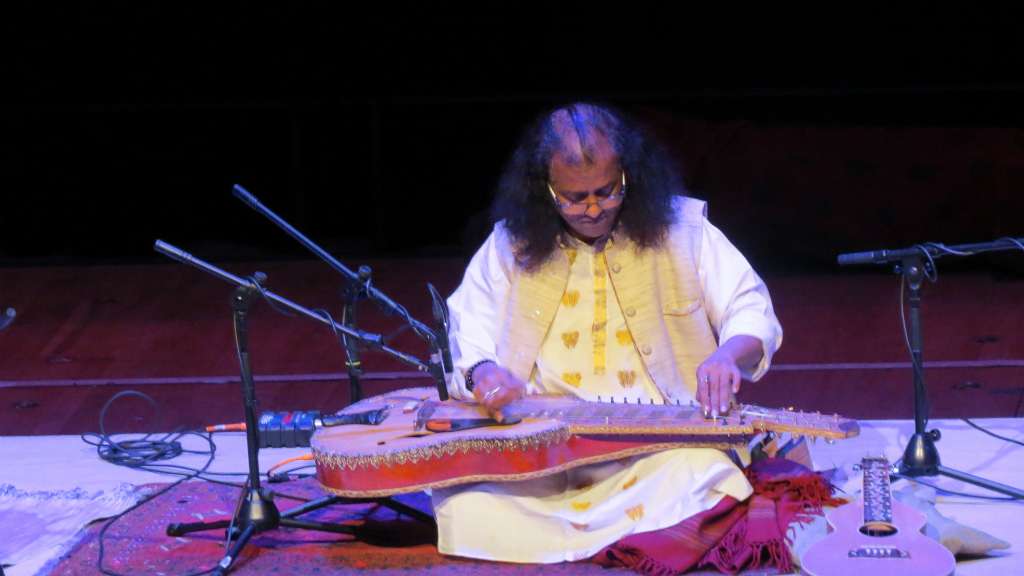 One of the finest slide guitarists in the world, Debashish Bhattacharya, performed at St George's, Bristol on 26 March 2018.
A REMARKABLE EVENING OF OUTSTANDING TALENT
Tabla player Sanju Sahai provided accompaniment. Being one of the finest tabla players of his generation, Sanju Sahai together with the maestro Debashish Bhattacharya, made the evening a unique experience.
One of the incredible moments the musicians @Debashishguitar & @sanjusahai gifted us at last night's concert @stgeorgesbris #Wow #indianclassical #tabla #slideguitar #bristol #livemusic #MusicVideos #music pic.twitter.com/ndAnqppn0D

— Asian Arts Agency (@AsianArtsAgency) March 27, 2018
STANDING OVATION
The audience were thrilled and captivated by Debashish's performance. A standing ovation and stamping of feet at the end of the concert signified the delight.
Debashish Bhattacharya's concert touched heart strings…
The Debashish Bhattacharya concert tonight was very beautiful. It's rare to hear music with this level of fluid virtuosity and great emotion.

— Mark Lawrence (@markjklawrence) March 26, 2018
Thank you @markjklawrence for your words and @AsianArtsAgency for bringing this music to Bristol https://t.co/5NDfZywMYO

— St George's Bristol (@stgeorgesbris) March 27, 2018
PHOTOS