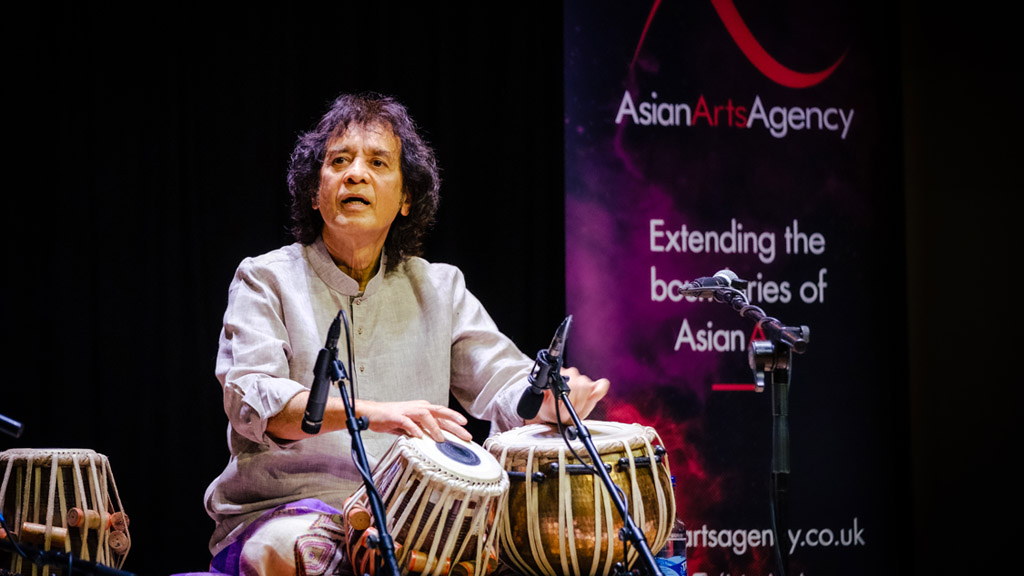 We presented a highly successful concert with tabla virtuoso Zakir Hussain at St George's Bristol on November 23rd 2021.
One of the world's most esteemed musicians, Zakir Hussain, performed in Bristol with a world class ensemble: Marcus Gilmore (drums), Abbos Kosimov (Doyra and Uzbek percussion) and Sabir Khan (Sarangi).
This concert was a once in a life time opportunity for Bristol and nearby audiences to  witness the iconic Zakir Hussain perform and see the musical interactions spark amidst the unique group of musicians.
Bringing live music back on stage after the series of lockdowns and uncertain times we have all endured has been an uplifting experience for our audiences.
The concert had a spectacular turn out.
Selected audience comments below:
Fantastic event! Thank you Asian Arts Agency for bringing these world class musicians to Bristol!
Words fail to describe the magical journey- and the graciousness of the artistes to end with a surprise vocal rendition
This gig was nothing short of marvellous and Hussain is one of the most exceptional talents of our time. It's no surprise that along with his equally talented musician cohorts on the night, that a truly memorable and exhilarating experience was felt by an audience who gave more than one standing ovation and clapped with heartfelt appreciation…
Beyond description. Such a privilege to be there. Well done Asian arts agency.
Check out our selected photographs from this wonderful event here.
View the event page here.