We produced a highly successful UK tour with Sufi maestros Rizwan-Muazzam Qawwals in March, with performances at major venues in 8 cities around the UK.
A wonderful mix of audiences packed out concerts in London, Bristol, Gateshead and Manchester, with London's Barbican Centre selling out before the tour commenced.
Diverse and new audiences to venues
We attracted diverse audiences and a high percentage of first time attenders to the UK's major concert venues. At London's Barbican and Leeds Town Hall, 65% of audience members were first time attenders to the venue. At Town Hall Birmingham 60% of audience members were first time attenders, with Turner Sims Southampton, Sage Gateshead and St George's Bristol also receiving almost 50% first time audiences.
This demonstrates the impact of our work to attract new and diverse audiences to partner venues.
High profile media coverage for Sufi maestros
The tour attracted high profile media coverage for Rizwan-Muazzam. A live performance on BBC Radio 4's flagship arts and culture programme Loose Ends, hosted by Clive Anderson, and an interview on BBC Radio 6 Music with Cerys Matthews helped to extend the reach of Sufi music.
Wonderful audience feedback for Sufi maestros
Here's a selection of audience feedback we have received so far:
"Mesmerising, joyful and life-affirming"
"@RizwanMuazzamQ at the Barbican was just fantastic. It's been a difficult couple of weeks, but my soul is lifted. Should be prescribed on the NHS! Thank you."
"This was exceptional music. Exciting, sublime, thrilling and absolutely commited…It was really brilliant to be in a such an intimate space and share in something so special with people from all faith groups and cultural backgrounds. We left the concert hall uplifted and full of hope."
"I saw Rizwan-Muazzam at the Barbican last night. I've never seen that concert hall so raucous and full of life! Qawwali is such a hypnotic, enriching, and beautiful form of music!"
"One of the best gigs I've been to so far in #Bristol. Rizwan and Muazzam were jaw-dropping, joy inducing, AMAZING."
"One of the best Asian music concerts ever in Leeds!"
Selection of photos
The maestros in action at St George's Bristol. Photos courtesy of Evan Dawson:
Rizwan performing at St George's Bristol (photo by Evan Dawson):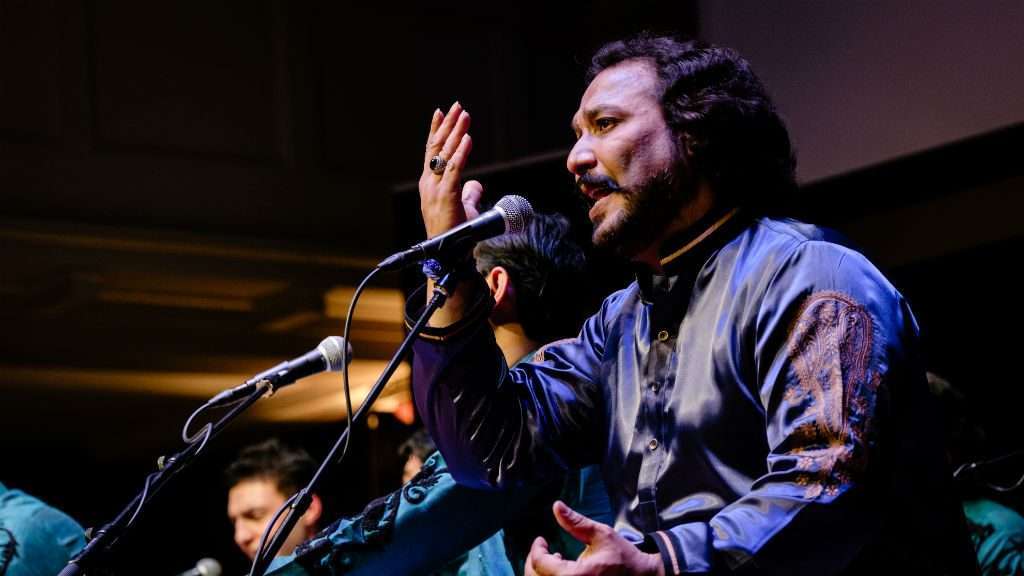 Muazzam performing at St George's Bristol (photo by Evan Dawson):
For more information and a full list of tour dates visit our Rizwan-Muazzam event page.