We produced a successful 6 date UK Tour with Hashmat Sultana in Feb – March 2020.
Hashmat Sultana are the most exciting contemporary Sufi and punjabi artists to emerge from India in the last two years. The debut UK tour followed their acclaimed WOMAD appearance in 2018. Presented with a live band consisting of 5 top UK musicians, the tour provided an excellent opportunity for collaboration between UK and Indian artists.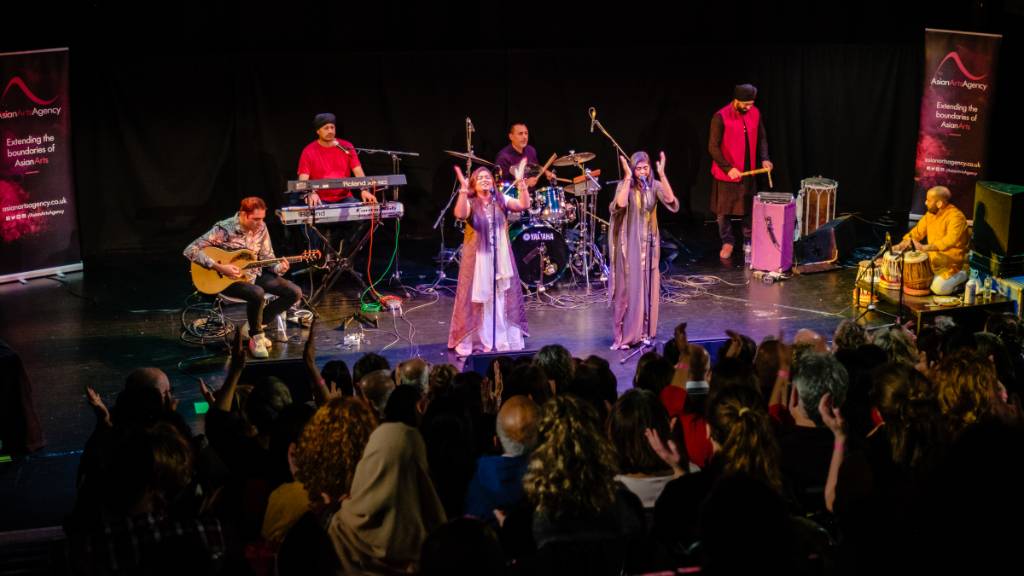 INCREDIBLE AUDIENCE FEEDBACK
The audience feedback during the tour has been incredible. Here is a selection:
"Absolutely brilliant, they had me crying tears of joy."
"Wasn't expecting to dance tonight thank you to the brilliant Hashmat Sultana and the great people we met afterwards."
"Brilliant evening had by all – Thank you to Asian arts for hosting such a fabulous evening- great energy and diversity! More please!"
"Really good evening. Great voices and energy. Loved the band. Hope they return to Bristol."
"Absolutely fantastic and an excellent evening with Hashmat Sultana and Asian Arts.The voice of two sisters kept the hall warm all the way to the end.Just loved the way sang and deliver the vibes.Hope to see live and more like these shows from Asian arts agency."
NEW VENUES
Venues included Norden Farm Centre for the Arts in Maidenhead, Folkestone Quarterhouse, Bridport Arts Centre, Arnolfini in Bristol, AT7 Centre in Coventry and Sage Gateshead.
We were delighted to take our work to venues in parts of Britain we had not been to before including Norden Farm, Folkestone Quarterhouse and Bridport Arts Centre. The response was highly encouraging. Bridport Arts Centre stated on Twitter:
Such an honour to have Hashmat Sultana with us on Friday night. They had everyone out of their seats and dancing with their joyful music. A huge THANK YOU to them for coming so far to blow the roof off our venue. Thanks Asian Arts Agency for making it possible!
Watch the Encore at Bridport Arts below:
Thank you @BridportArts – what a wonderful evening & wonderful audience! We caught the #Encore ⬇︎ #livemusic https://t.co/a52C4bzUGt pic.twitter.com/vjHk5EUNlw

— Asian Arts Agency (@AsianArtsAgency) March 3, 2020
In our home city ,Bristol, the concert took place at the Arnolfini and was sold out.
MUSIC OF THE SUFIS
Presenting a refreshing and contemporary twist on traditional Punjabi folk and Sufi music from India, the performances featured Sufi poetry and songs from the great Punjabi Sufi poets, such as Baba Bulleh Shah and Shah Hussain.
With powerful Punjabi vocal performances and incredible versatility, the sisters gave electrifying performances.
Watch a short clip of Hashmat Sultana performing the Sufi classic Mast Qalandar at the Arnolfini:
We are at @ArnolfiniArts tonight! And the vibe is ELECTRIC! ⚡️@Hashmat_Sultana #livemusic #sufi #worldmusic #bristolmusic pic.twitter.com/VpgIUg1YLT

— Asian Arts Agency (@AsianArtsAgency) February 29, 2020